Psi Chapter Recolonization Report
May 2005
On April 30, 2005, the recolonization agreement was signed by Bethany College, Beta Theta Pi, and Psi Chapter. The General Fraternity has awarded Psi Chapter a recolonization schedule for the first quarter of 2006. We now turn our attention to the chapter house improvements for move in, fall 2006.
We need your help. Please get involved and contact us.

<-- Bob Kent, Art Musicaro, Deno Emili

Recolonization Advisors Certified April 9, 2005
Chapter House Repairs Schedule
Financial Report
Recolonization Team
Class Agents
<-- John Cunningham, Bob Kent

Recolonization Executive Summary - What is expected of Psi Chapter and the General Fraternity?
Requirements for Recolonization
1. Assign the advisory roles outlined in the Recolonization Manual as follows:
Chapter Counselor – The quarterback of our team - David "PH" Cottington '79 #1121
Financial Advisor - Jeffrey C. "Boo" Boucek '82 #1190
Pledge Education Advisor - Michael Zdinack '00 #1462
Recruitment Advisor - Deno P. Emili '78 #1100
Risk Management Advisor - Blake M. Rowe '75 #1045
2. $10,000 Psi Chapter Fund at the General Fraternity in Oxford.
The balance is $10,847.35.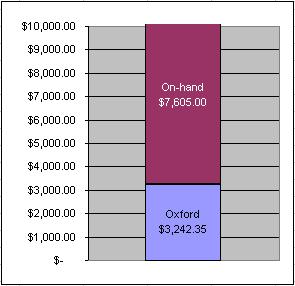 3. $1,000 recruitment through scholarship fund.
Done- $1,000 is on-hand at Beta Theta Pi

Other Facts
The new founding fathers can be from any class year. They do not have to be freshmen.
Ultimately, the goal is to have the 5 advisory positions filled in time to attend the convention, August 4 - 7 in Scottsdale, AZ. The convention fee is covered by the general fraternity. The advisor trainees incur travel expenses and a discounted lodging rate.
The 5 advisory positions are the minimum requirement. We may split duties and add additional advisor positions to meet our needs and situation. Other advisor positions that we could fill:
1. Leadership development advisor
2. Parent's association advisor
3. Faculty advisor
The General Fraternity will revise the dates in our recolonization manual for a Spring 2006 recolonization (the dates show fall 05 now) to begin in the 3rd week of January 2006. The anticipated move in for the new founding father actives is fall 2006.
For more information from the Beta Theta Pi expansion department, please visit www.GoBetaToday.com.