From the "Old Main Journal", An E-News Service of Bethany College
September 20, 2013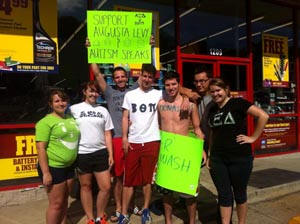 Alpha Xi, Beta Raise Money, Awareness
On Saturday, Sept. 14, Bethany's Alpha Xi Delta and Beta Theta Pi hosted a joint event to raise both money and awareness for their philanthropies. The two chapters reached out with a car wash at the Wellsburg Autozone, earning a combined total of $242 to be divided evenly between the groups.
"Working with Beta added a new dynamic," said Sarah Smith, Alpha Xi Delta's Philanthropy Chair. "These are the type of events that Greeks should be focusing on together and I'm excited for the possibility to work with them again in the future." The funds will benefit the efforts of Autism Speaks, Alpha Xi Delta's national philanthropy, and the Agusta Levy Learning Center, the chosen philanthropy for the Psi Chapter of Beta Theta Pi.
September 13, 2013
Remembering an Alumnus, Former Trustee
Dr. Bob Renner '48, a Bethany College trustee from 1974-80, passed away Sunday, Sept. 8 at the age of 85.
Renner was a member of Beta Theta Pi. After graduating from Bethany, he went on to earn a law degree and M.D. Renner then joined the U.S. Navy, and he served two years at Pearl Harbor. Renner retired from Cortland Memorial Hospital in 1989, where he served as chief of radiology at Cortland Memorial Hospital for 16 years.

There will be no calling hours and burial will be private. There will be a Celebration of Life gathering for family and friends at 11 a.m. Nov. 16 at the Skaneateles Country Club in Skaneateles, N.Y.
September 6, 2013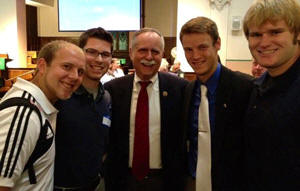 McKinley Visits Bethany
Rep. David McKinley of the 1st Congressional District held two meetings in the Town of Bethany Sept. 3, 2013, one with Town Council and one with Bethany area residents and students. Rep. McKinley held the community roundtable at Bethany Memorial Church and was interviewed by students with the Bethany Broadcasting Network. Following the Roundtable, Rep. McKinley, a member of Beta Theta Pi fraternity at Purdue University, visited with members of Bethany's Beta Chapter.

August 30, 2013

Fraternity Beta Theta Pi and sorority Zeta Tau Alpha
passed out breakfast snacks Monday to give students
a boost during their first day of class.

April 26, 2013

Tyler J. Buchanan
of Claysville, Pa. received the
Beta Beta Beta-B. R. Weimer Award
and the
Leonard Emory Yurko Award
. The Beta Beta Beta-B. R. Weimer Award, established in honor of the late Bernal R. Weimer, Professor of Biology and Dean of the Faculty, is given each year to the senior in Biology who has attained the highest academic rank in this major. The Leonard Emory Yurko Award is presented annually to the senior pre-medical student exhibiting outstanding character and excellent scholarship as determined by the Health Professions Advisory Committee. Buchanan, a Biology major, is the son of Robert and April Buchanan.

Casey E. Hamilton
of Mathias, W.Va. received the
Thomas Jefferson Prize in Political Science
. The Thomas Jefferson Prize, established in 1994, is given to a student who has demonstrated outstanding performance in the field of Political Science through superior academic achievement and participation in the political life of the campus. Hamilton, a Political Science major, is the son of Edwin and Tamera Hamilton.