November 5, 2010
Bethany Celebrates Halloween with Parade and Costume Contest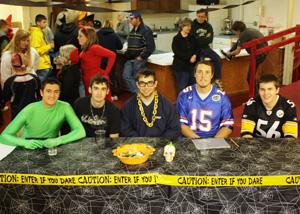 The Town of Bethany held its annual Halloween Parade and Costume Contest last weekend. Several of the brothers of Beta Theta Pi, led by Community Service Chairman Bob Rovnanik, prepared the Bethany Memorial Church for the festivities. Following the Trick-or-Treatersí parade led by the Bethany Volunteer Fire Department, five of the fraternity's men judged the costume contest. The Town provided cash prizes for the contestants voted the Scariest, Most Original and Best Costume for two age groups of 0-10 and 11 and older. Attendees enjoyed homemade caramel apples, cookies and cider.
Working with the Bethany College Service Learning Center, the Betas used this event as a service-learning opportunity and to encourage other students to contact the Center (service@bethanywv.edu) to learn about other upcoming events for which to volunteer.

June 25, 2010
Beta Theta Pi Brothers Present $700,000 Gift to Bethany College
More than 150 brothers of the Beta Theta Pi fraternityís Psi chapter gathered June 17-20 to honor the groupís founding at Bethany College 150 years ago. Highlighting the weekend was the Psi Celebration Dinner and Gala, when members presented President Scott D. Miller with a $700,000 check for Bethany College.
"Law 360" Report: Greg Jordan ('81) Tabbed To "Most Innovative Managing Partners" List
Greg Jordan '81, chair of the College's Board of Trustees was profiled by Law 360 as part of their Innovative Managing Partner series. To read the article, visit www.law360.com/articles/176942.
May 21, 2010
Valedictorian Randal Stuckwish Receives Oreon E. Scott Award
Valedictorian Randal S. Stuckwish of McDonald, Pa., completed his college career with top honors during Bethany Collegeís 2010 Commencement ceremony on May 15. Dr. Darin E. Fields, Vice President of Academic Affairs and Dean of the Faculty, presented Stuckwish with the Collegeís Oreon E. Scott Award, given annually to the senior graduating with the highest academic standing.
April 23, 2010
Beta Theta Pi and Alpha Xi Delta Win Greek Week
Greek Week, a time for Bethany Collegeís Greek community to come together and celebrate Greek life on campus, took place April 14-17. During the week, chapters competed in various events ranging from dodgeball to trivia, soccer tennis to tug-of-war and ending with Greek Sing on Saturday night with a packed Commencement Hall. The service event for the week resulted in more than 700 cans of food being donated to Bethany Memorial Church. Based on the overall number of points accumulated for winning each event (both chapters won Greek Sing), Beta Theta Pi and Alpha Xi Delta received the menís and womenís Greek Week trophies, respectively, on Saturday night. The event was planned by a student committee comprised of representatives from each chapter and co-chaired by Allison Winwood, senior and member of Alpha Xi Delta, and Chris Smurthwaite, junior and member of Phi Kappa Tau.
Webmasters Addendum

W. Kirk Woolery Award (aka Woolery Cup)

Beta Theta Pi (GPA 3.05)

Bethany 2000 Prize

Randal S. Stuckwish '10 #1519

W. F. Kennedy Prize

Thomas J. Kisner '11 #1524

Eugene Miller Award
Geoffrey T. Clark

'10 #1520

Forrest H. Kirkpatrick Award

Randal S. Stuckwish '10 #1519

W. Randolph Cooey Value Added Award
Douglas R. Davidson

'10 #1521

W. H. Cramblet Prize

Randal S. Stuckwish '10 #1519
Follow this link to more information on Bethany College's Web Site:
http://www.bethanywv.edu/about-bethany/news/bethany-college-presents-annual-honors-day-award
January 15, 2010
Jordan Featured in Pittsburgh Business Times
Bethany College alum and Chair of the Board of Trustees Greg Jordan í81 was featured in a Q&A by the Pittsburgh Business Times. The article focused on his work as global managing partner with Reed Smith LLP, a 132-year-old firm based in Pittsburgh that has grown to become an international operation and the cityís second-largest law firm. Jordan was selected as the firmís youngest managing partner in 2001.