News Archive
February 25, 2003
From: Psi Diamond, House Corp., Charitable Foundation
Re: Vince Mikolay #1460 '00 Accepts Award for Beta Theta Pi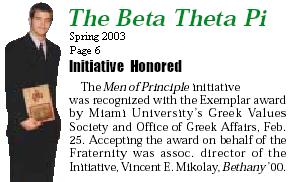 [ Return to the News Headlines ]


February 18, 2003
From: Deno Emili, 1100, '78
Re: Psi Chapter Update
In answer to B Mack and all others who have questions, a letter was mailed out by the General Fraternity last Friday, with a special note from Vince Mikolay, Psi class of 2000. Please feel free to contact me at the Psi Diamond Assocation if you would like a personal response to the issues.
[ Return to the News Headlines ]


February 4, 2003
From: Deno Emili
Re: Chapter House Update
The House was locked up 10 days or so ago because [the membership was not meeting] the financial operating obligations...
There has been a series of meetings and conference calls over the last few weeks between a number of Psi alums and the Dean of Students, Dean of Greek Life and the President of the College, as well as representatives of the General Fraternity. More information will be distributed as things become clearer during the week. It's been a trying time and its taken much effort, but we're working through the issues.
[ Return to the News Headlines ]


From: Catherine Blair
To: bethlink
Sent: Monday, December 30, 2002 9:20 AM
Subject: Bill Young
Bill Young '47, alumnus and former Bethany College professor, died late last week. He had been living in Jacksonville, Fla. Visitation is scheduled for 2-4 p.m. and 7-9 p.m. Friday, Jan. 3 at Chambers Funeral Home in Wellsburg, W.Va. A funeral service is scheduled for 11 a.m. Saturday, Jan. 4 at Bethany Memorial Church.
Catherine Blair
Director of Alumni Relations
[ Return to the News Headlines ]


From: Art Musicaro
To: Psi Net
Sent: 12/31/2002 05:25 AM
Subject: Sad Psi News
I received a call from brother Bill Young's son last evening. He informed me that Bill had passed away on Saturday, December 28, 2002. Bill moved from Bethany to Jacksonville, FL about a year and half ago. He died in Jacksonville.
Bill was 80 years old, a member of the class of 1947, a veteran of WW2, wounded in combat, retired as department chair of the history and political science departments of Bethany college, board member for many, many years of the Psi chapter house Corp, Brooke county library and many other boards and organizations and a loyal Beta to the end.
Arrangements are pending at, Chambers Funeral Home, 1030 Main Street, Wellsburg, WV 304-737-3551. Obituary information is available at 304-737-1705.
A funeral service will held Saturday, January 4, 2002 in the morning at the Bethany Memorial Church, Bethany, WV.
I will handle flowers from the alumni. Either e-mail or call me @ (w) 304-547-0101, (h) 304-242-1262.
Art #1103
[ Return to the News Headlines ]


From: Art Bertol
To: Psi Net
Sent: 12/06/2002 8:26am
Subject: In-Town Fraternities Meeting
Here are a few details of our 12/3/02 meeting held at the Berkman Room (cafeteria back meeting room). The three "In-Town Fraternities" (title of the meeting) were represented.
Beta Theta Pi: Art Musicaro, Art Bertol, Dr. Robin Cole, House President Pat Whitmore, Officer Adam Beyers
Kappa Alpha: Bill Stoner, others, actives
Sigma Nu: Christopher Williams, others, actives
At this meeting for the college were: Dean John Cunningham, Joe Kurey, Mark Chernenko - counsel for the college and current board member; and Brian Cunningham - head of campus security. President Poteat also stopped by for this meeting and voiced her campaign to address binge and underage drinking problems at Bethany College.
John Cunningham offered that the fall freshman class was the largest in three decades at 358 students. A policy to "require" that Greek students live in their respective houses was suggested. Not discussed in this meeting but voiced prior to and after the meeting in private discussion was the desire of the school to place independent students in houses that are not to capacity. Cunningham reported that IFC is not a very strong organization and that needed to change - Panhellenic on the other hand is much more organized and effective. The school has adopted a policy to comply to FIPG - The Fraternal Information and Programming Group, the leading national organization addressing risk-management education and policies for fraternal organizations.
Town mayor, Sven DeJung also spoke - explaining problems that he has encountered with late night intoxicated students - some from Bethany, many from other schools. Garbage collection, grass cutting, noise, open containers, public urinating, vandalism, littering and combativeness were among the issues. Leadership building program was proposed as was a "Greek Day" idea whereby Greek organizations could join in with the town to conduct an improvement project (cleanups, fixing, building, etc.). The town of Bethany has recently implemented a tax on town buildings: 3 cents/square foot that will raise to 4 cents / square foot in two years.
Brian Cunningham spoke on fire safety. During this past summer there was a fire at the Sigma Nu house that had it not been for the sprinkler system, a major catastrophe may have occurred. This system though had not been properly tested/inspected in several years. Security does daily walk throughs for all campus housing and has an outside service check alarms twice a year and the sprinkler systems each quarter. He offered that school security would be willing to conduct daily checks of our houses as well as conduct a fire safety training program as requested. Brian also offered that the school has a "no smoking" policy in all college owned buildings and suggested that our houses should adopt the same.
Joe Kurey spoke briefly about the possibility of resuming the service of billing off campus students' housing costs. Issues that were voiced concerns that by collecting rents the college would be viewed as more liable for student actions should some incident arise; and the stipulation that no bills would be paid to the housing units until the money was first collected from the students. A review of tuition payment to the school by the off campus housed students showed an average of only about 50% on time payment at present. The implied proposal was that if the houses would concede on some items (such as security access to the houses, drinking policy adopted, etc.)
Art Bertol
[ Return to the News Headlines ]


From: Patrick Whitmore
To: Art Bertol
Sent: 12/05/2002 10:57
Subject: Reports on the Psi Chapter
This is the information I have collected since we last talked:
1)We have a formal chapter meeting set for December 17th.
2)A Financial Report will be sent by our treasurer in the next week.
3) This is list of members:

Seniors:
Mike Quinones*
Justin Bogan*
Richard Check*
Adam Checton
Juniors:
Patrick Whitmore*
Derek McCullough*
JR Kapanyko*
JK Murphy
Sophomores:
Jake Shepard*
Brandon Tunney*
Craig Owens*
Jesse Prisuta*
Adam Byers*
Mike Soly*
New Member:
David Bundy
*denotes living in the house
4)GPA for house wont be released till next semester.
5)Rush two weeks ago we held a Monday night football and wings night. We had about 15 freshman attend.
6)Since the meeting on Tuesday, we've had two members pay in for rent. I keep stressing to the members to pay this hopefully if any are in financial difficulty they make arrangements with Art M.
7)The house is currently making strides to pay there debt off to the general fraternity. We will be paying $300 this month and next. We have established a payment plan with the general fraternity. We also have just finished a cookie sale and all the proceeds will be going to the general fraternity so the house can establish a [budget] they can work with during rush and the upcoming semester.
8)I will be sending a list of perspectives to you in the week to come.
I hope this information will help you see the Psi Chapter is making strides in the positive direction. [If you have] any questions, please call me at 829-9806.
Yours in _kai_,
Patrick Whitmore
[ Return to the News Headlines ]


From: Patrick Whitmore
To: Art Bertol
Sent: 12/18/2002 09:58
Subject: Psi Chapter
Hello Art,
I'm sorry to inform you I will not be attending Bethany College for Various reasons next semester. I have given JR Kapanyko all the information I have compiled and all the tasks that needed to be completed. I have informed him how to use the reporting forms on the Beta Theta Pi web page. [Please contact JR for any additional information.]
Thank you for your time and devotion. I've tried my hardest to help the Psi Chapter to succeed. My departure is at a crucial time and I have stressed to the brothers the importance of persistence and finding a stable ground.
Sincerely,
Patrick Whitmore
-1496-
[ Return to the News Headlines ]


From: Patrick Whitmore
To: www.betathetapi.org
Sent: 10/31/2002
Subject: Bethany's Homecoming Weekend
Bethany's homecoming weekend strengthens bond; Web site under construction
The rainy weather didn't keep the alumni from showing up at Bethany College's homecoming weekend. The muddy condition didn't stop the arrival of more than 50 Psi brothers.
"This was also a great time for our actives to really get in touch with some of our great alumni," reported Patrick Whitmore. "I felt the weekend was a great success and that the bond between our alumni and us really grew."
"I thank them for a great weekend and hope to see more of them in the future," added Whitmore.
At homecoming, Byron Shindler '77 volunteered to build a new web page in an effort to improve communication among the brothers. The web page is already under construction and should be ready to "go live" soon. Among other things the web page will include updates from House Corporation and PSI Diamond as well as how the active chapter is doing and what their needs are.
"We had what I felt was a very productive meeting and I think the web page will be one of the first results we'll see from that meeting," reported Bob Mackenzie.
[ Return to the News Headlines ]


.
Date:
Saturday, October 19, 2002, 9:00am
Occasion:
Psi Diamond Meeting at Homecoming 2002
Location:
Beta House
Action Items:
Dean Lesiak '74 #1033 to research methods for paying dues to the national office.
Jack Dumbaugh '74 #1017 appointed financial advisor to assist with the financial affairs of the active chapter.
Call on all alumni to assist with rush. "Formal rush" takes place at the beginning of the spring semester.
Call on all alumni with any available time to provide "hands-on" assistance, even if only 1 hour.
Consider providing membership scholarships for actives.
Important facts:
Active chapter membership: 12
Psi chapter house capacity: 20
Bethany College Enrollment: 704 (approx. 1200 at its peak)
2002 Rush Results
| | |
| --- | --- |
| Alpha Sigma Phi | 7 |
| Beta Theta Pi | 6 |
| Delta Tau Delta | 8 |
| Kappa Alpha | 7 |
| Phi Kappa Tau | 10 |
| Sigma Nu | 5 |
| | |
| --- | --- |
| New men students in Sept. & Jan. | 112 |
| New Men students eligible | 94 |
| Number pledged | 43 |
| New students eligible for rush who chose not to pledge | 51 |
| % of men pledged | 38 |
| % of men eligible who pledged | 45 |
| % of men affiliated at Bethany College | 54 |
Thanks:
Thanks very much to Pat Whitmore, the active chapter president, for making a real effort to make us feel welcome (and for the coffee and doughnuts).